ACS Laboratory
Our Sponsors
About ACS Laboratory

ACS Laboratory is the leading provider of Cannabis and HEMP/CBD laboratory testing services in Florida.   Founded in 2008, the ISO17025, AHCA and CLIA Accredited Laboratory uses state-of-the-art ultra-high performance liquid chromatography-tandem mass spectrometry (UPLC/MSMS, GC/MS and ICP/MS) technology. Utilizing our vast experience in high complexity laboratory tests, we developed proprietary testing methodologies which created enhanced detection ability and improved accuracy.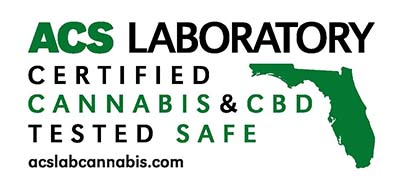 Without standards, compliance measures and proper methods, cannabis and hemp testing would be a guessing game and pose numerous threats to the public consumer.  In our 17,500 sq ft state of the art facility outside of TAMPA, FL we test Potency for Biomass, Flower, Trim, Extracts, Crude Oil, Isolates, Distillates, Edibles, Manufactured and Complex products like Patches, Aerosols and Nano Water.
ACS tests for 16 different cannabinoids, terpenes, residual solvents, pesticides, moisture, water activity microbiology including mold, mildew, e.coli, pathogens, mycotoxins, plant regulators, heavy metals, flavonoids, micronutrients and even bioanalysis for pharmacokinetics (PK) study of THC. Our expert scientific team was able to react quickly to the recent wave of "vape-related illnesses" and developed the first Vitamin E Acetate panel to ensure products are "VAPE SAFE."
In 2019 ACS Laboratory was awarded 14 Emerald Badges, more than any other Lab in the eastern USA, for our accuracy, consistency and proficiency in testing.
The Emerald Test™ is an Inter-Laboratory Comparison and Proficiency Test (ILC/PT) program for cannabis testing facilities. It brings to the cannabis/hemp industry a well-established standard for testing found in the environmental, food, pharmaceutical, water, and petrochemical testing industries. Through the participation of labs around the world, the ILC/PT helps establish an industry benchmark for cannabis/hemp compliance testing.  
Ensuring the end consumer receives a safe, non-toxic product through third party independent laboratory compliance testing is vital to any operating cannabis/hemp business.
Please visit ACS Laborary: https://acslabcannabis.com/ or call us at 1.888.416.1084.