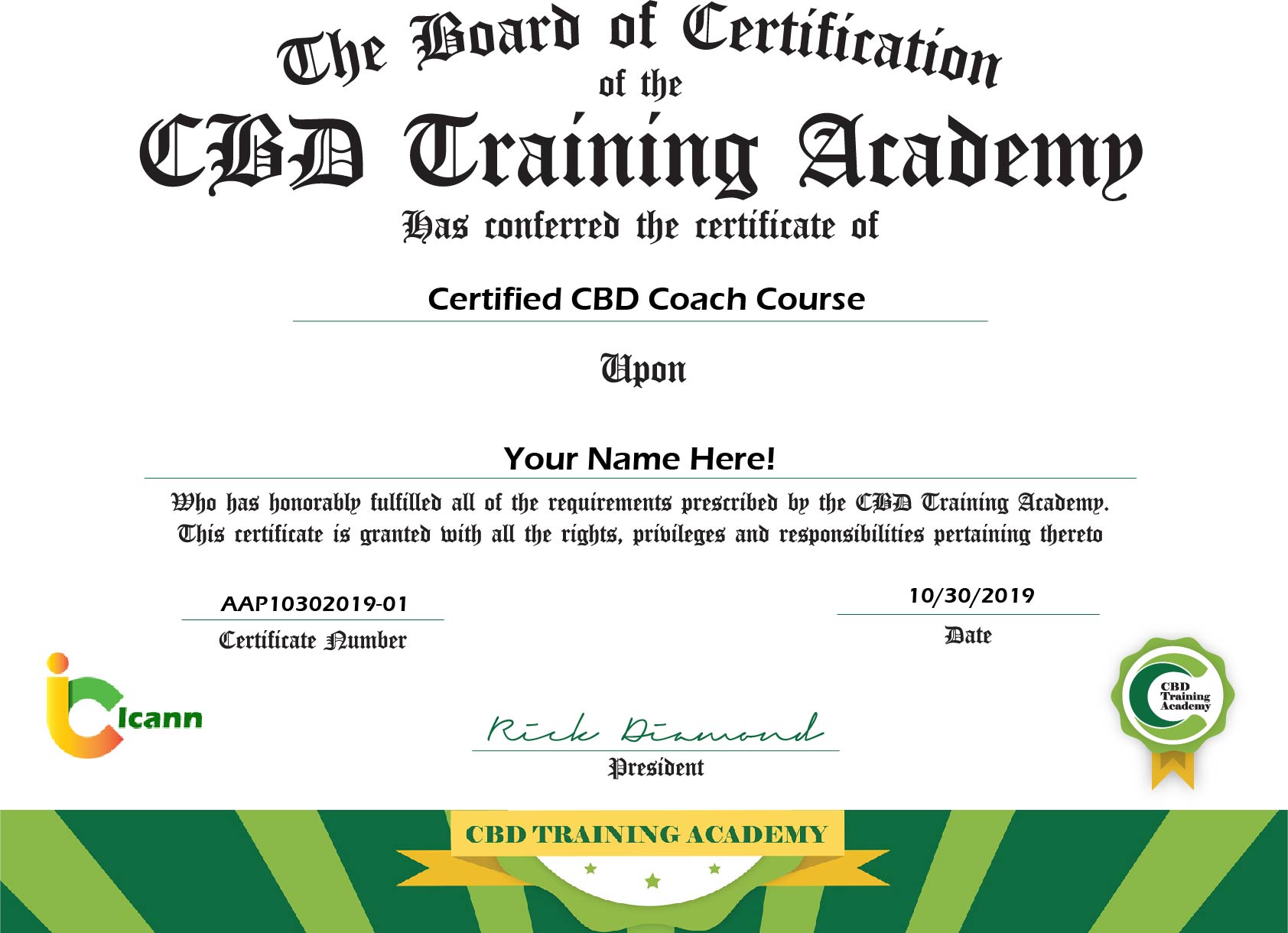 Why Get CBD Certified?
The CBD Training Academy Certification
CBD Training Academy's Certification offers you an advantage in the market, whether you are training new team-members, building credibility for your coaching practice, developing an e-commerce business or seeking a job in the CBD, Cannabis or Vape industries. Graduates that pass The CBD Training Academy Certification Exams add this milestone to their websites, letterhead, LinkedIn profiles, resumes, advertisements and any correspondence with prospective customers to give you a leg up on your competition. We encourage our community to present the certification as a mark of distinction within the industry, a living document that will continue to evolve over time as your success grows and the Academy's influence in the industry expands.
Benefits of Certification....
Certifications enhance credibility, self-image, and encourages life-long learning and professional development.
The CBD Training Academy's certification programs benefit employers and individuals by providing for development and recognition for individuals, and by providing a consumer-recognizable qualification upon which customers can base their purchasing decisions.
Certification recognizes and documents a person's education, knowledge, and experience – and provides an objective, third-party assessment of your skills.
As an individual, getting certified:
Enhances your credibility with employers and customers.
Recognizes the additional level of knowledge and skills and prepares you to interact with customers on a more helpful and successful level.
Serves as portable proof of ability.
Enriches self-image and reputation among peers and customers.
Improves career opportunities-promotions and pay increases.
Encourages life-long learning and professional development.
And most importantly, indicates to the end client that you have the knowledge to be able to help them make succesful buying decisions and as a result improves sales, customer retention and customer satisfaction.
Certificate of Completion
For our non-certifcation courses, you'll receive a Certificate of Completion that can also be posted on your website and in your other marketing materials.  Both our Certification and our Certificate of Completion is provided by Icann – the International Cannabinoid Consortium.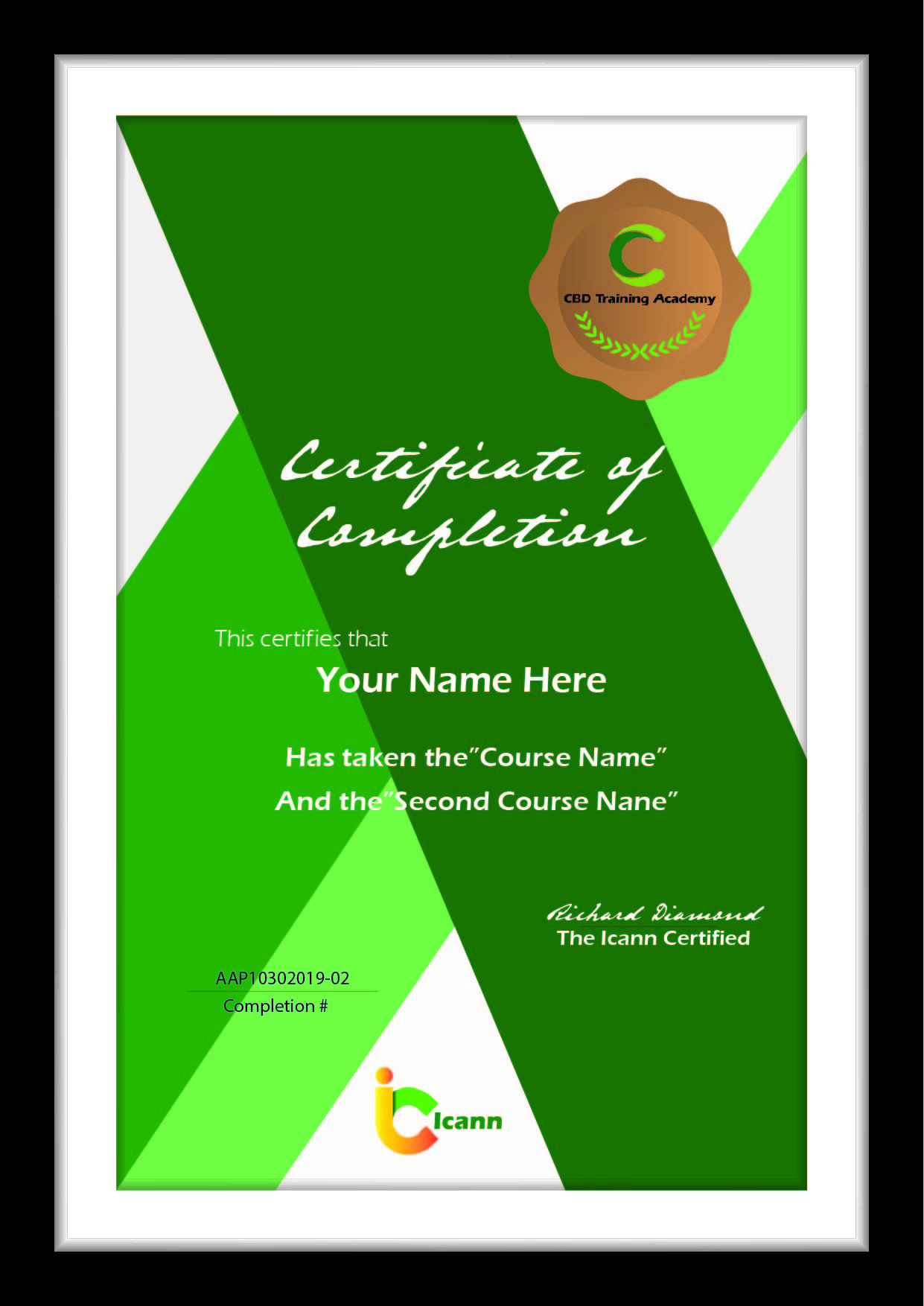 Icann Certification Process
Certification Program Mission Statement
Icann believes that the health and wellness of our society can be significantly improved by the success of our Certified CBD Professionals and Coaches. Icann's mission is to help people around the world to improve their health and wellness through the effective and safe use of Cannabinoids. This will be accomplished through the Icann Certification Program with the goal to certify 10,000 people who will reach out to people seeking optimal health to help us achieve our mission. Our efforts to improve the health of many, multiplies exponentially as the professionals certified by Icann disseminate the Icann principles and methods to their clients, colleagues and associates. Icann always strives to inspire CBD professionals with the hopes of positively impacting the quality of life of each individual with whom they come in contact. Icann is fully committed to providing quality, scientifically based certification programs for competent practice in the heath and wellness arena, advancing the CBD industry as a whole, and developing greater access to career opportunities for those who share our vision of creating a stronger, healthier world.
Icann Certification Board
Icann certifies people, products and places for the CBD industry on a global basis. The Icann Certification Board is solely responsible for all essential decisions related to the development, administration, scoring, and ongoing maintenance of the CBD Training Academy certification programs. The Certification Board approves all curriculum and each module of training is approved by our Chief Medical Officer. The Academy has certified people in over 25 countries and is growing rapidly. To learn more about our board or to be considered for upcoming board positions, please contact us via email: certboard@icannventures.com.